When looking for the perfect place to work on your swing, try out a brand new and exciting sport, or plan super fun parties, look no further than Lumber Jack's Axe Throwing. If you live in the Los Angeles area, or anywhere near Southern California, your job is made infinitely easier. You're already on the website of the coolest and best axe throwing venue near you! If you're not so fortunate, book those plane tickets and we'll see you soon! But maybe you're looking for something a little closer to home. We can help find the best bad-axe throwing experience your pennies can buy. Obviously the location that is most like us, naturally.
Why is Lumber Jack's so Great?
She's Beauty, She's Grace
I'm so glad you asked! Maybe it's the gorgeous space? The open and lovely décor? Each lane is built with safety, excellent throwing, and aesthetics in mind. There is sturdy, powder-coated metal fencing between each target, so there is no risk of throwing into your friends' lanes. You won't find any wobbly chicken wire or chain-link fencing here. Our axe-pertly painted and mounted targets make throwing a breeze. Each board is carefully maintained and swapped when ragged from axe throwing. The most commonly changed board is the center, the bullseye board. Just goes to show how great our guests can become in just one hour of throwing!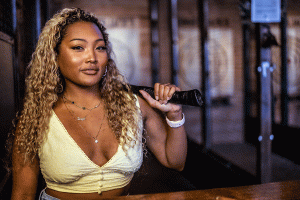 The Staff
Perhaps, it's the super friendly axe-perts, always ready to assist with safety measures and coaching. Our helpful staff work with each guest to hone their axe throwing technique. It's like having your own personal axe coach! The Axe-perts pride themselves on providing great customer service for every person that walks through our door. It's their job to ensure you have a total blast, and they're like, really good at it. In addition to the literal fun and games, these bad-axe throwing instructors also uphold our rules and safety protocols as well as answer any questions that might come up. Our team wants to ensure that your group has a great time and a safe time. Maybe the real bullseyes were the friends we made along the way.
What That Axe Do?
From first time throwers to league competitors, we are here for all of your axe throwing needs. We have three different axe varieties to choose from. There is a standard, small-sized hatchet, a larger camping axe, and a Big Axe. New to Lumber Jack's Axe Throwing, the Big Axe is a totally different experience. With it's long wooden handle, it's totally wild to try out. Whether you want to compete with friends or against your coworkers at one of our awesome corporate events, there's something for everyone here. Oh yeah, did you think I'd let you forget about our sweet party options? No matter what you're celebrating, LJ's is the place to host. We can get you set up with food and non-alcoholic drinks, or you can even bring in your own food if you'd like. There's a lot of super rad places nearby to grab a bite from! Our team building events make for a fantastic option to surprise your employees with. It's truly an awesome way to bond; lighting the fires with competitive axe throwing.
Throwing Axes Like a Pro – Axe Throwing League
If you always have an awesome time axe throwing, you might want to consider taking things to the next level. Our seasonal axe throwing leagues are a great way to practice your skills against some fierce competitors. It's super easy to sign up and compete, check out our League Page and bring your whole team! Challenge your friends to a game! Don't be intimidated by the formality, axe throwers of all experience levels are encouraged to join. You might even learn some tips and tricks from your fellow throwers. There's nothing like a fun night axe throwing with good company.

I'm Way Too Far Away! How Do I Find the Best Axe Throwing Near Me?
Axe throwing has been growing in popularity since the very first dedicated establishment opened in Canada in 2006. Catching up to the trend, LA got its first axe throwing location in 2018, and LJ's has since perfected the craft. There are tons of independent businesses looking to provide fun axe-periences to throwers all over the world! (Are you sick of my axe puns yet? They just keep getting worse, I know. But I'm having an awesome time over here.) To find the perfect location near you, start by doing your research. Check out the axe throwing places in your comfortable driving radius and investigate their Yelp pages! Small-Town venues especially can vary in quality and price, so check out what the locals are saying. That many 5 star reviews can't be wrong!
Identify Your Needs
As in life, love, and axe throwing, it's important to establish the needs of your team. Check out the availability of your local axe-throwing location. Do they accept walk-ins or require reservations? There are pros and cons to both. Reservations are handy because then you absolutely know your group will be able to throw when they want to. Walk-ins are nice for spontaneous outings with your friends or family. How large can your parties be? If you have a bunch of family in town, going axe throwing is a great way to engage a large group on short notice! Does this location allow kids to play? At LJ's, guests must be ages 16 and up. It's totally a safety thing. When they're a little older, the kids can come play! Is this venue outdoor or indoor axe throwing? It's totally up to your preferences and comfort level. We recommend indoor axe throwing as outside means weather and bugs and sunburns.
Throw Axes with Style
Now that you've decided on the perfect axe throwing location for your group, get ready for some serious fun and games. Before you snatch up those tickets, be sure to check for discounts! I love the thrill of finding a good deal. Check out the social media pages of your axe throwing company to see if they are running any specials. Email sign-ups can help you stay up to date on the latest and greatest. You should totally go follow Lumber Jack's, we post some pretty darn cool stuff. A couple of simple clicks might bring down the overall price per person for your experience. The best way to throw is with a happy wallet.
See You Soon!
We hope this enticing blog post has you feeling stoked to join us at Lumber Jack's Axe Throwing. In our humble opinion, it truly is the best axe throwing you can find in the greater LA area. So come on down and see for yourself, we can't wait to have you! If the journey to our door is far too long, we understand. Hopefully you can find yourself an awesome axe throwing venue near you!