Although it might come off as a little intimidating, axe throwing isn't a dangerous sport. In the same way that you can injure yourself with a tennis racket if you're not handling it properly, it's all about mindfulness and careful practice. When participants follow the rules, and axe throwing venues work to create a safe environment, everybody wins and nobody gets hurt. Well, not everybody wins, it's still a competitive sport after all!
Basic Axe Throwing Safety
When you arrive at Lumber Jack's Axe Throwing, you encounter safety measures from the moment you step into our lobby. Marked off on the floor is our safe-zone, a white outlined area where axes will never enter. For those looking to get an idea of axe-throwing before trying it out for themselves, this is a safe place to observe from afar.
Our dress-code requires guests wear closed-toed shoes. This keeps your digits safe in case you axe-identally drop your axe. If you arrive without close-toed shoes, we can happily supply them for you. Just like bowling, but if bowling shoes were Crocs™!
Your Axe-pert will personally go over the rules with every member of your group. All of our rules tie directly to safety. In fact, we talk a lot about this topic in the post: "How old do you have to be to axe throw?" outlining the safety reasons for a number of our policies. Want to learn how to safely pull and axe from its target? Check out that blog!
Built for Success
After getting checked in, your axe-pert will lead you to your lane. The lanes at Lumber Jack's are arranged such that no one would ever need to walk in the path of a person throwing. The individual and double lanes are all separated by sturdy, black metal fencing. Not only is it incredibly aesthetically pleasing and allows for perfect spectatorship, but that sleek, cage-like divider prevents cross-throwing incidents. Each target has its own personal protection.
Our lanes are built with a hard rubber mat running the length of the floor. This absorbs shock from axes that bounce off their target or throws that don't quite stick. Under those rubber mats are wood impact boards that help resist the chance of an axe bouncing as it falls.
The targets built for the Lumber Jack's Axe Throwing facility are made with high-quality wood, kept soft and pliable, perfect for your bullseye. Our boards are sprayed frequently with a water solution to keep them from splitting, or causing a break in the axes themselves. The throwing axes are kept sharp, but not razor sharp, to ensure they easily stick when thrown. Every axe has a hand-taped rubber handle for maintaining your best possible grip. Each detail is considered for the safety of our guests.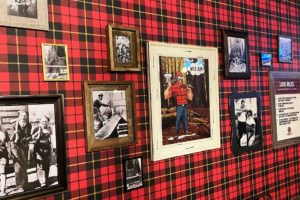 Throwing Axes with Confidence
Having a fearful throw can mean a greater chance of dropping your axe or flinging it out into your lane, missing the target. The more confidence you have while you throw axes, the better! Listen to your axe-pert, ask questions, and don't be afraid to make mistakes. There's no such thing as a bad throw if you learn something from it. Remember, axe throwing is about having fun and trying something new. You might not be an expert the first time you throw, but with each hit and every point, you're learning! It's amazing how quickly our guests get the swing of things.
It's perfectly fine to be nervous, but don't let that get in the way of your good time. Remember, safety is our number one priority and we have plenty of tips and training to keep you out of danger.
Axe-idents are Rare
All the axe throwing safety instruction and preparation in the world can't account for every single weird hit, wall bounce, or hatchet drop. Freak axe-idents can happen, but we've never had one yet! On the off chance something should happen, we are well equipped with first aid materials. Of course we have band-aids, we're an axe throwing place!
One of the most common questions we get is: can I drink alcohol there? We're not sure who saw the phrase "axe throwing bar" and decided that was a great idea. To be honest, we don't think axes and alcohol make a good cocktail. At Lumber Jack's, we do not allow alcohol inside our facility. We definitely recommend celebrating your amazing axe-throwing success with drinks after! While other axe throwing facilities might be comfortable with the risk that alcohol poses, for us, it's a huge safety thing. We want to ensure every person throwing feels safe and comfortable. (As corny as that sounds, it's true!)
So… Axe Throwing is Safe?
Yes! If you have been wondering if axe throwing is dangerous, we hope this has convinced you otherwise. Grab a partner and visit us at our Northridge location on Wednesdays-Sundays for a super fun axe throwing adventure. Head on over, learn to throw, and hone your bullseye. We can't wait to see your greatest hits!
Follow us on Instagram and sign up for our email list to stay in-the-know on all things Lumber Jack's!