Sign-ups are filling up fast...
3 New WATL Winter Leagues Announced
Now offering a WATL marathon league, Big Axe league, and Hatchet League nights on Wednesdays and Sundays. Sign-ups are now open!
League Registration
Welcome to Lumber Jack's Axe Throwing
Axe Throwing in Los Angeles!
"Extremely safe, clean, and had a fun twist with mini games offered that I haven't seen at other axe throwing places."
- Pauline S. from Yelp
Watch our Commercial
Best Axe Throwing Experience in LA
Students get $10 off
NOTE: You must show a valid student ID upon arrival or else you will be asked to pay the difference.
No experience necessary...
Learn how to throw an axe like a pro!
Our WATL certified axe coaches will take you from zero to hero on your first visit!
Make your reservation
Los Angeles Axe Throwing Parties
Party at An Axe Throwing Range
We can host parties as large as 120 and as small as 4. Catering available as well!
Request a quote
Company parties are our specialty...
Corporate Team Building Events
Google, Warner Brothers, Wells Fargo, Home Depot, Nike... what do these companies all have in common? They've all hosted events at Lumber Jack's los angeles axe throwing!
Request a quote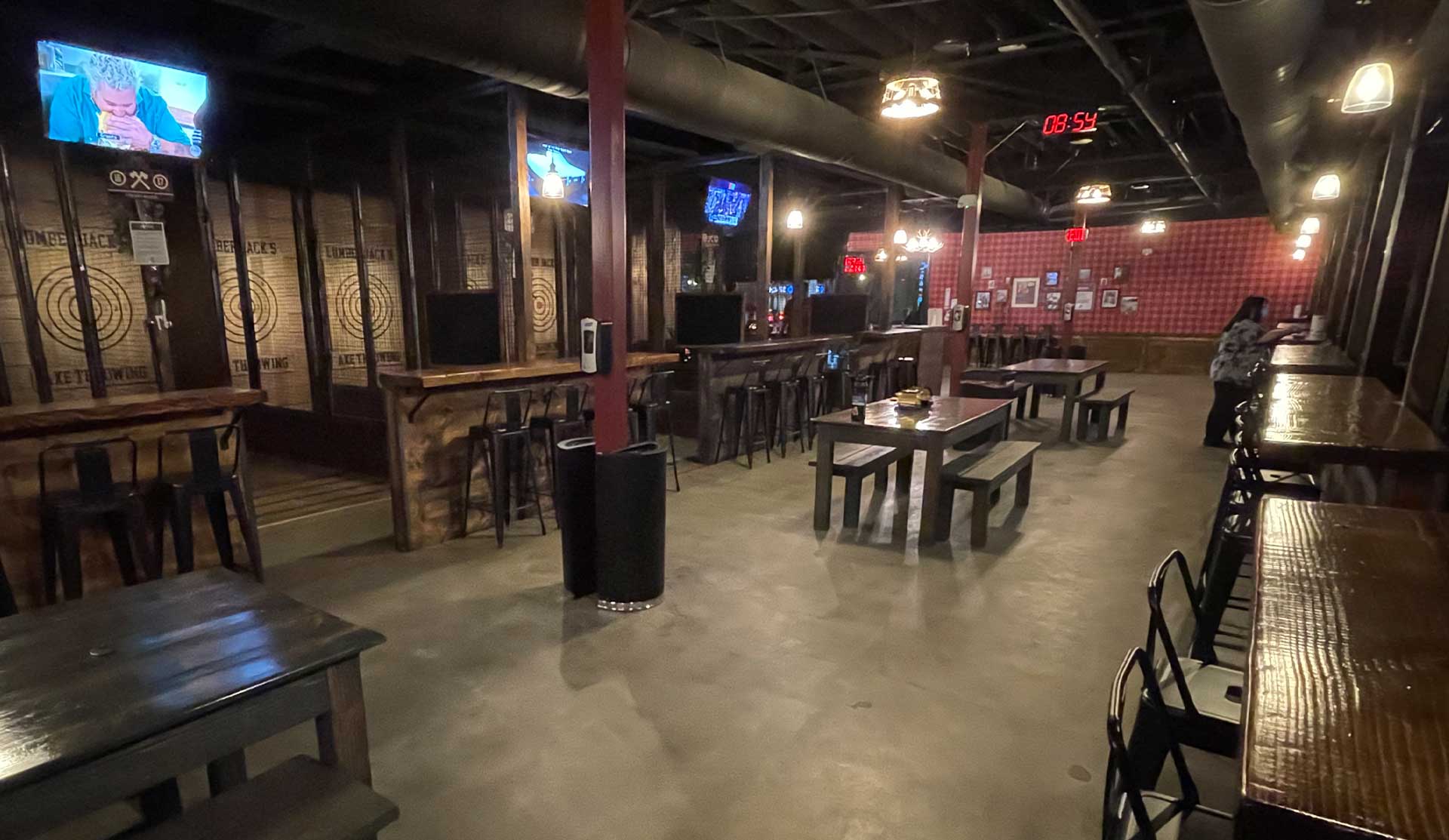 Make a Reservation
Choose an option below.
Large Groups
Groups larger than 12 people
|
Call or Email for pricing
We have room for groups as large as 126+. Bring your team from work, your birthday party, your bachelor party, you name it, and we'll make sure it's an event for the memory books!
Take a Virtual Tour
Take a virtual tour of our facility and drink it all in!
What People Are Saying
Just a few of our recent rave reviews!
We took a group here on a corporate excursion and everyone had a blast! The atmosphere is laid back and you can go at your own pace, which is nice, but the guys who work there are also available to teach you technique and help you learn. Definitely a fun group activity!
Jeremy I.
Yelp Review
Super friendly staff that won't hesitate to help you make the most of your experience. Our first few throws were way off target, an hour later and we felt like pros!
George R.
TripAdvisor Review
What a blast. Coaches are great, and the axe throwing is something so different, who wouldn't have a good time. We always felt safe, had a great time, and it was well worth the money.
Alex G.
Google Review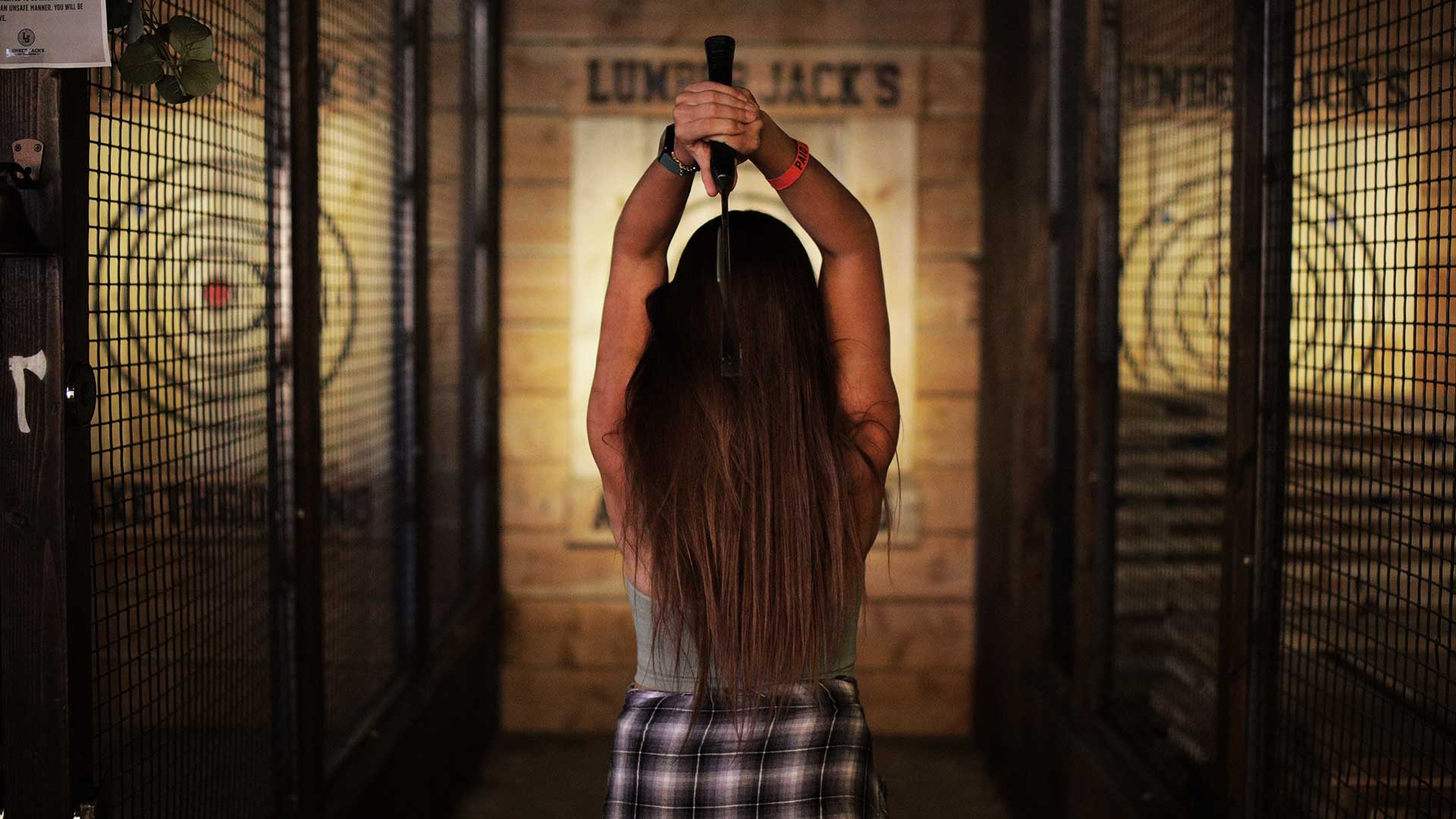 Events at Lumber Jack's Axe Throwing
Lumber Jack's Axe Throwing is the most highly recommended and top axe throwing facility in Los Angeles for you to enjoy. With friendly axe-perts, 21 high-end WATL certified lanes, and declicious snacks and drinks, you won't want your time with us to end!
Birthday Parties
Los Angeles axe throwing is a great option for a birthday party extravaganza. But Lumber Jack's Axe Throwing Los Angeles can take your private event and make it an evening you'll never forget.
Corporate Events
Want to work on your team building skills in the Los Angeles office but add a bit of adventure into the mix? Bring your colleagues to Lumber Jack's Axe Throwing to learn a new skill, and learn about your coworkers and how they perform in a competitive environment.
Family Events
Make it a family night as friends and families get to throw axes and play the games provided by our axe-perts. Try out the FULL EXPERIENCE or if you're just looking to thor won your own, take advantage of our FREE THROW option. Either way, your time with us is guaranteed to take an exciting leap once you've learned this new skill and have headed back into the streets of Los Angeles.
Bachelor Parties
Bring your bridal party to our axe throwing facility LA location. And expect great things for those who manage to hit the mysterious blue dot. All before your special events to come!
Romantic Dates
Axe throwing already makes for a unique date experience. But with our Lumber Jack's Axe Throwing LA location, adults can enjoy an evening of competitive games, lots of opportunities to flirt, and make memories.
Frequently Asked Questions
Click a question to reveal its answer
How much will it cost?
$30/hr on weekdays / $32/hr on weekends
Walk-ins are welcome anytime during our regular business hours and will participate on a first come, first serve basis.

We recommend making a reservation to guarantee you will be able to participate.
Do I need a reservation?
No, we accept walk-ins anytime! However, during our busiest times (Friday and Saturday evenings), it is recommended that you make a reservation to absolutely ensure that you get to throw.
Can I come alone?
Ofcourse!
We don't have a minimum requirement for your group size, but we suggest you come on weeknights if you're coming to throw by yourself.
How do I book?
Bookings are made right here on our website!

You must pay in full using a credit or debit card to confirm your reservation.
What should I bring?
All adult guests are required to bring a valid, government-issued ID. You MUST wear closed-toe shoes (and no high heels). You will not be permitted to play if you do not wear closed-toe shoes. Please also bring: DETERMINATION, ENTHUSIASM, AND A COMPETITIVE SPIRIT!!!
Do you host private events?
Axe throwing is a team building activity that we recommend for corporate events with your co workers, a bachelorette party or bachelor party, and any other special event you can think of! We would be excited to host your party!
Who can participate?
Players 16-116 years old are welcome! Minors however, (16 & 17 year-olds) must be accompanied by a legal guardian.
All guests will receive a brief orientation and taught to throw an axe in a safe manner.
If we doubt the capabilities of a minor to safely throw an axe, our coaches will not allow the minor to participate.
Is axe throwing dangerous?
Safety is our #1 priority. Axe throwing is as safe as any other sport or entertainment activity of a similar genre. We go above and beyond to protect our guests by requiring all of our axe masters and coaches to become Axe Safety Certified.

You will always be in good hands at our facility. Please read more about axe throwing safety on our blog.
Will there be training?
Definitely! Our certified coaches will demonstrate proper safety and axe throwing techniques during your first few throws in the throwing lanes. Coaches are present throughout the experience for questions and to help you master your bullseye and learn how to throw an axe.
What should I wear?
Again, you absolutely MUST wear closed-toe shoes. Other than that, we encourage folks to dress comfortably, especially allowing for ample arm movement. Also, we love flannel.
Are spectators allowed?
Yes! However, everyone in the building must sign the safety waiver.

Can I bring my own axe?
You can, but it must be completely concealed in a carrying case until you enter the facility. You MUST check your axe in with the front desk and allow us to look it over.
Can I purchase or bring alcoholic beverages?
No, there's no full bar here. Alcohol is not allowed anywhere on the premises. (That just sounds like a disaster waiting to happen!)
Can I bring my own food/drinks?
Small groups of up to 12 can bring in their own delicious food and (non-alcoholic) beverages, but we ask that you patronize our friends' surrounding restaurants in the University Plaza complex. Catering is available for larger groups (over 12) - call us at (833) 995-3550 for more info.
How far are you from North Hollywood?
Our axe throwing location is only a 15-20 minute drive from North Hollywood, Los Angeles! Come throw axes and have a new and unique experience. Walk-ins are welcome but we recommend a reservation for guaranteed fun!
Is there league play available?
We are proud to offer axe throwing lanes that have been certified by the World Axe Throwing League (WATL) and offer league play at our Northridge axe throwing location for those that want to compete. click here for more information about league play
What is the cancellation policy?
We understand things can come up, and will not charge you for your entire visit if you cancel more than 24 hours before your scheduled event.
Can I rent the whole place?
Absolutely! Call us to do so! (833) 995-3550
Best Axe Throwing in Los Angeles
Come on down and we promise to give you the best axe throwing experience available in the San Fernando Valley.
Established in 2021 in the midst of the pandemic, Lumber Jack's Axe Throwing has succeeded in becoming the best axe throwing venue in Los Angeles and Northridge. From the creators of THE BASEMENT: A Live Escape Room Experience comes a new take on the popular new American pastime. Lumber Jack's Axe Throwing offers a cozy lodge vibe with a sports bar twist.
If you're in Los Angeles and you're looking for something fun and unique to do with your friends or a date, Axe Throwing is the way to go. Our friendly trained axe-perts will have you throwing bulls-eyes in no time - NO EXPERIENCE NECESSARY! Just come wear close toed shoes and a smile on your face, and leave the rest to us.
I know what you're thinking... where's the axe throwing near me? Lumber Jack's Axe Throwing is right in your back yard in Northridge, CA right next CSUN (California State University Northridge). It's located right in the center of the valley so you should have no trouble finding us. Located in University Plaza along with California Chicken Cafe, Waba Grill, and many other fine eateries.
We offer a plethora of drink and snack choices (no alcohol as this is a 16-year and older facility), and you can also bring your own food and drinks when you come!