Southern California is home to some of the most amazing, interactive experiences the world has to offer. LA in particular boasts a wide variety of high energy, fun places to blow off steam or host a rad party. On the corner of Nordhoff and Reseda in Northridge, CA, Lumber Jack's Axe Throwing hosts guaranteed fun for groups of all sizes. We are proud to be one of Los Angeles' premier axe throwing locations, offering a unique experience for each and every guest.
First Time Axe Throwing?
Hoping to find a casual place to get started? LJ's has all your axe throwing needs covered! For first timers and seasoned pros, we are here to help you learn the basics and hone your technique. Even this blog has some really helpful tips and tricks that you can read up on before your arrival. Each person is taught to throw two different axes, two different ways. It's a great place to start your axe throwing adventure.
LJ's offers a variety of axe throwing games and activities to keep you entertained for hours on end. We've got something for everyone! Whether you're looking to start ax throwing recreationally, or with one of our awesome WATL leagues, we've got you covered. Take on the challenge of our bullseye targets, or just practice your aim with some fun and friendly competition. As long as you're being safe and having a blast, we're happy!
But is it… Dangerous?
Not at all! At Lumber Jack's, safety is our number one priority. We know this is a question that plagues first time axe throwers, so we have made it a priority to ensure that you can play at ease. allow us to quell your fears with this expertly written blog post!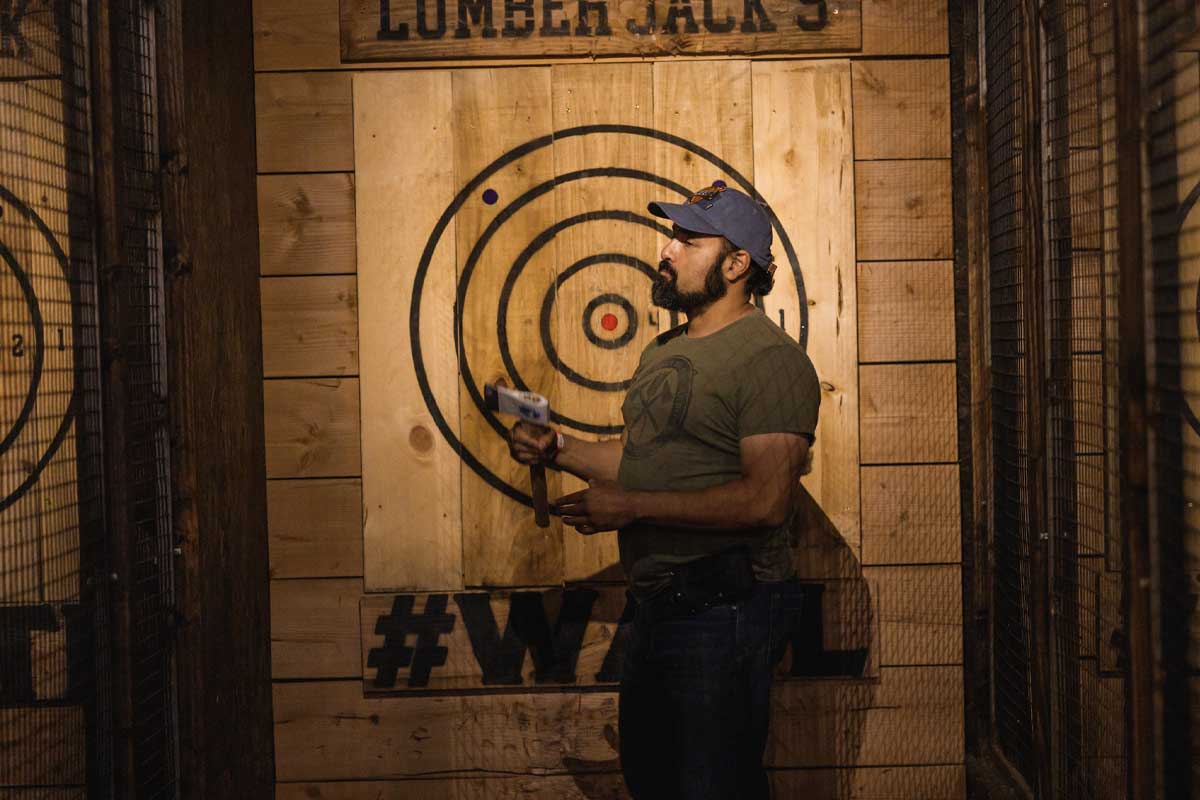 How to Prepare –
We've covered a lot of awesome ways to prep for your axe throwing experience. Whether you're a group of walk-ins or you like to plan ahead, there are a few things to know before arrival.
Dress Comfortably
It's important to have full, comfortable range of motion to throw axes. Be sure to wear clothing that allows you to flex and bend and move freely. Accessories are cool and all, but beware of loose or dangling jewelry, it could get caught up in your swing! Additionally, it's a good idea to tie long hair back. That keeps your visibility up and it out of your face. As far as fashion and theming, we always recommend flannel! There is an entire blog post dedicated to this topic that you can check out HERE.
Wear Closed Toe Shoes
Even if you're joining us for a super fun bachelorette party, and your heels are totally adorable, please make sure they are fit for axe throwing. Every guest must wear close toed shoes before they are allowed to enter the axe throwing lanes. If you need a pair, we can swap in a fashionable pair of crocs for your throwing time! Fun Fact: Crocs are impervious to being hit by an axe. Don't question my sources, just roll with it, okay?
Don't Arrive Intoxicated
Safety is our highest priority at Lumber Jack's Axe Throwing. We create high energy fun with our guests, playing games and listening to some seriously rockin' tunes. Guests that arrive visibly intoxicated will be asked to leave. We are quite literally handing you a weapon and asking that you be cool with it. Unlike many axe throwing venues, we do not serve beer or any other alcohol at our facility. We always recommend our guests celebrate their bullseyes after they throw with us.
Come Throw Axes with Us!
We recommend that you book online in advance to make a reservation. This ensures that the day and time that you want to join us is available. However, we do also accept walk-ins during our regular business hours, allowing for more spontaneous date nights and gettogethers with friends. For private parties, corporate events/team building exercises, and larger groups, please visit our Events Page to get in touch with our Events Coordinator. They can help you organize food and drinks for your guests, plan the lanes, and help you to celebrate! You can bring your own food as well, especially birthday cake!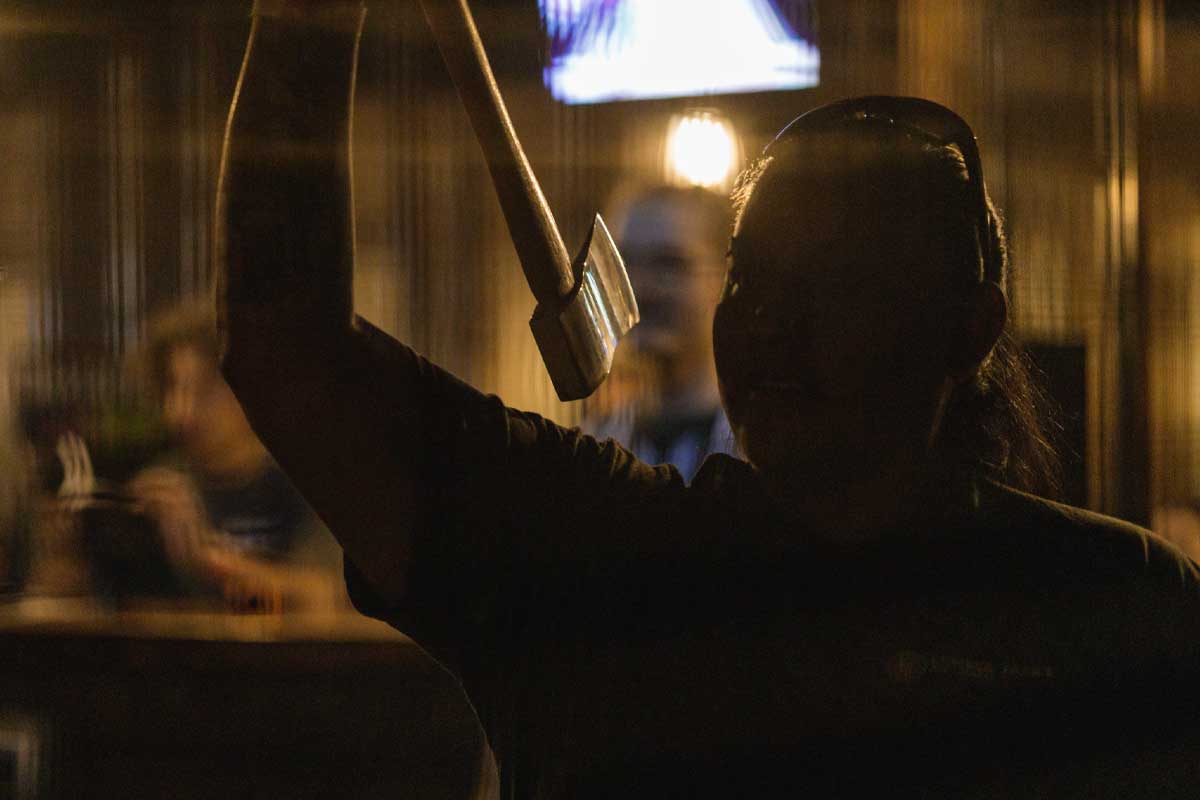 Why Lumber Jack's?
In LA, ax throwing has becoming an increasingly popular game and outing for private events, birthday parties, and bachelor parties. There are lots of axe throwing venues to choose from, but Lumber Jack's is your home for fun-filled, casual target practice. LJ's is great for first time throwers looking to have an adventurous Saturday, or learn a new sport! Our axe-perts will teach you tips and tricks for honing your throws while keeping that upbeat attitude. Whether you're a pro looking for their home for throwing axes, or a newbie who wants to try axe throwing recreationally, LJ's is totally hyped to have you visit!
Design Difference
Our lanes are brightly lit and beautiful, with dividers between every target. There's no change for a rogue ax to fly into your throwing space. The facility itself is charming, creating a welcoming environment, free of judgement or intimidation. Our Axe-perts (your new friends/coaches) are ready to share with you an hour of bullseyes!
Age Access
Additionally, Lumber Jack's is not a bar. Many LA ax throwing places are synonymous with serving alcohol, and are therefore restrictive to 21+. LJ's invites guests 16+ to come join us for ax throwing, as long as there is an adult (18+) in their group. That way you don't have to wait 5 years before you can try ax throwing!
Great Reviews
Well hey, you don't have to take our word for it. Our visitors have been very kind in sharing their experiences on Yelp. Check out this awesome review:
"My first time trying axe throwing and it was so much fun. Honestly I was a bit scared but the staff were so friendly and patient. One member of the staff walks you through each step and teaches you how to throw the axe. It took many tries to figure it out. After many tries, I finally got a bullseye! It is so much fun and stress relieving."
At the time of this blog posting, we have over 75 – 5 Star reviews, with the numbers growing every week. We take great pride in our friendly, knowledgeable staff and the beauty and safety of our facility. (And the beauty of our staff and the friendliness of our facility. Wait, what?)
See you soon!
Thanks for reading! We are so looking forward to your next adventure with us. Come see for yourself why Lumber Jack's is LA's finest axe throwing venue. Stay up to date on promotions and news by signing up for our email list! Check out our social media for fun axe throwing videos, complete with tips and tricks. (There's a really fun series hosted by our staff titled, "Will it Stick!" and you'll be AMAZED at what actually sticks in our target.) Got a question? Axe us anything via our Contact Page!