When on an axe throwing adventure, it's important to be safe and comfortable during your experience. Many sports require very specific clothes, but throwing axes is a lot more causal. You can wear just about anything you'd like, save for open toe shoes. Here we have outlined some of the best options for what to wear when visiting our urban axe throwing venue.
From Head to (Closed) Toe (Shoes)
If you have long hair, it's best to keep it back and out of your face. You want maximum visibility and mobility. Ponytails, buns, and braids work best to keep your hair from getting in the way of your rad swing. Beanies are a great choice! Keep your head warm and rock an adorable, Lumber Jack approved hipster fashion at the same time.
Tops – Flexible in Flannel
Your shirt should provide ample room to move around in. Axe throwing involves a lot of shoulder action and you don't want to be restricted; you will use your full range of motion. Avoid things like dress shirts, fitted shirts, or too many layers. A comfortable shirt is a great choice; t-shirts and long-sleeves alike can look awesome while keeping your throw in good shape.
Now, we can't promise that it will give you a competitive edge, but flannel shirts are ALWAYS appreciated! They are cozy, provide the ample movement needed to properly throw an axe, and really make you feel like a lumberjack. Now if they only made pine-scented laundry detergent, then we'd REALLY be talking!
Pants – Wear Them!
A generally good life tip. We recommend sturdy yet flexible pants, like your favorite pair of jeans. Bending over to pick up your axe is a reality of axe throwing. Belts are awesome: we don't want any plumber's crack action happening. Pants are a better choice over shorts or skirts; covering more of your skin means less risk of minor injury. If you trip and fall onto a pile of target board wood chips, you won't have to worry about splinters if you're wearing pants!
Wear. Closed. Toe. Shoes.
This is incredibly important to the safety of your overall axe throwing experience. We recommend wearing comfortable, casual shoes. You are participating in a sport after all! You can wear boots, running shoes, crocks, or flats. Wear anything that covers and protects the entirety of your feet. Closed toed shoes are a must at Lumber Jack's Axe Throwing. If you arrive wearing open toe shoes, we actually have closed toe shoes to swap for you. Kind of like a bowling, this is for safety reasons. When you leave, we expect all your piggies to come home from market.
An evening of axe throwing is one of many really rad date ideas, and of course you want to look cute. You can wear heels when you're axe throwing, but it's not 100% advisable. You need to be able to maintain your balance, stand for the majority of your axe throwing experience, and walk confidently. If you can do all of that in heels, be our guest! Again, casual shoes are recommended, but if you simply must must must wear fancy shoes, they have to be closed toed.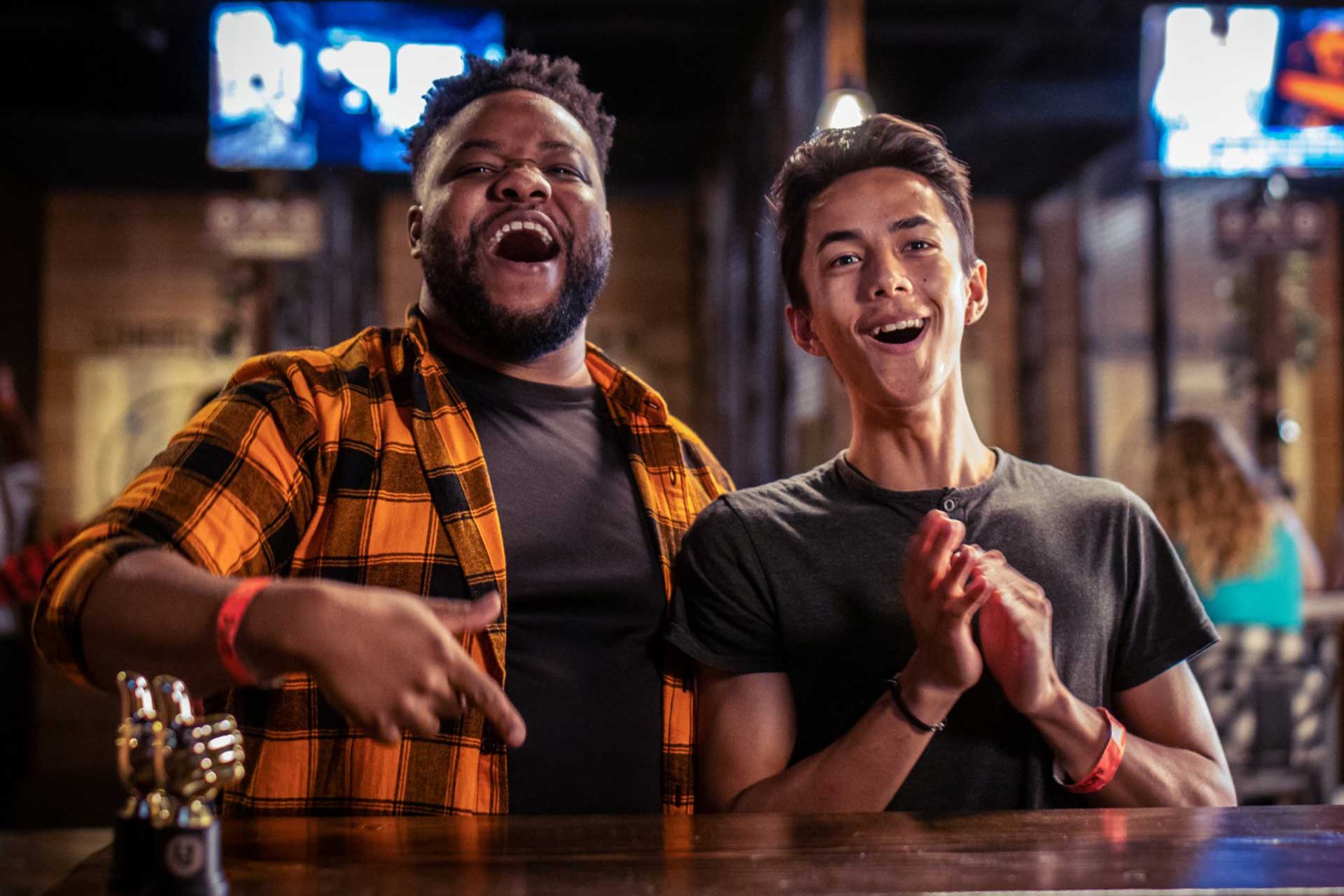 Outerwear and Accessories
At our axe-throwing venue, there's no need to wear bulky winter jackets and scarves like a real lumberjack might. We keep the place nice and comfortable, hovering around 70 degrees at all times. If you do wear a sweater, just make sure the sleeves can be easily rolled up.
Loose hanging jewelry is ill advised. You wouldn't want your necklace getting caught up in your axe during an overhand throw! Same goes for large dangling/hoop earrings.
Dressed for Success!
At Lumber Jack's, we encourage you to come as you are. Dress comfortably, but dress like YOU! That means wear something you feel confident in. Get into character, embrace the woodsy theme, or showcase your killer fashion. Again, flannel is our favorite, and your axe-perts will totally get excited if you show up dressed just like them.
Very soon you will be able to pick up your very own Lumber Jack's Axe Throwing t shirt! Featuring some of our favorite catchphrases (What that axe do???) and Jack himself, we can't wait for our new merch to take up residence in your wardrobe!
Get all dressed up and come throw an axe with us! See you soon!