Popular with adventure seekers of all ages, axe throwing is becoming one of the most popular events to host a party around. Giving your guests an opportunity to play a new casual sport is a super fun way to celebrate friends, family, or whatever you've got going on!
Of course, our biggest goal is to keep axe throwing safe for all those who visit LJ's. We want to ensure that every guest has a safe and exciting axe throwing experience. In order to ensure this, we have certain rules that everyone must follow. With that in mind: How old do you have to be to axe throw?
Age Limit / Restrictions
Our minimum age: Guests must be at least 16 years old to participate and spectate at Lumber Jack's Axe Throwing. Children under the age of 15 will only be permitted as far as our front lobby. It's a huge safety thing as our axes are real steel, and can be rather heavy. There is a certain combination of strength, height, and coordination needed to participate in axe throwing safely. It's not that we don't trust kids, it's just that we really don't want them to get hurt. We'll go over all of the ways we strive to keep our players safe.
Although there isn't a strict age limit (i.e. How old is too old to throw an axe,) we again are looking for certain factors. It's a physical activity that necessitates a wide range of motion and a sure hand. Should a person feel uncomfortable throwing, or exhibit unsafe behavior while throwing, they are welcome to spectate, watching the other axe throwers in their group.
In our case, 16-116 is our recommended age range. We will be keeping an eye out for safe throws and ability to follow directions. Anyone over the age of 16 can throw with us!
What do I need to throw axes?
For adults 18+, all participants must fill out and sign our waiver, bring a valid ID, and wear closed toed shoes. In the event you do not have closed toe shoes, we can actually provide a pair for you! You can read up on all the greatest axe throwing fashion questions on our blog post: "What to Wear Axe Throwing?"
16 and 17 year olds must be accompanied by a parent or legal guardian, have their waiver completed by said guardian, and of course, wear closed toed shoes.
All guests are welcome to bring in their own food, either meals or snacks. However, guests cannot bring alcohol inside the facility, or consume alcohol at our location. Again, it's a safety thing. Axes and alcohol don't mix! We do offer other drinks available for purchase: sodas, energy drinks, water, and even coffee and non-alcoholic beer.
Can I bring my own axe?
Sure you can! If you choose to do so, your axe must be completely concealed in a carrying case until you enter the facility. You MUST check your axe in with the front desk and allow us to look it over. Remember, it is a piece of sporting equipment, but it is also a weapon. If you don't have your own axe, don't worry, we have all the equipment you will need! Each lane is set up with four throwing axes: two hatchet sized axes, and two larger, heavier axes. Our axe-perts will teach you how to throw both!
How Do I Book Axe Throwing?
Guests are welcome to make reservations on our website to ensure a specific date/time slot. This is especially helpful when looking to throw on a busy Friday night! However, we always accept walk ins during our normal business hours. Walk ins may be required to wait or return at a specified time, but there is plenty to do near our location. There are tons of awesome food options nearby, and even a rad Boba-Tea place upstairs to grab drinks from.
Booking online means paying in advance, but walk in parties can pay with cash upon arrival. Currently, there is no minimum group size! If you would like a relaxing night out without the kids, without the whole family, or even if you want a lane all to yourself, we can definitely arrange that.
What if I Have a Large Group?
We love hosting events! Large groups are strongly encouraged to book in advance through our Events Page. There, you can send an inquiry regarding the kind of party you are looking to host. We have all kinds of fun options for corporate events, team building, birthdays, bachelor/bachelorette parties, and anything else you might be celebrating! Booking these kinds of events in advance ensure that we have enough open lanes for your group.
Lumber Jack's has partnered with five local restaurants to offer catering for our large event groups! There are several awesome food choices to select for your party. For more information about booking an event, contact our Event Coordinator via this form!
(Our minimum age requirements do extend to events as well, so be sure to leave the kids at home.)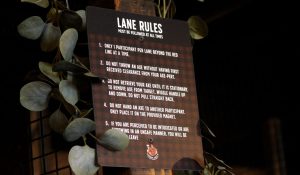 Safety Precautions
LJ's wants to dissuade any fears about axe throwing, changing anxiety to excitement as you stare down your target. Is axe throwing safe? Absolutely? Is it fun? For SURE. Safety is at the heart of everything that we do, passing it on to all of our axe throwers. At the beginning of every experience, we go over the lane etiquette.
• One In, One Out Policy: No more than two guests are allowed inside the lane at a given time. This is to prevent injury. Backswings with an axe can quickly spell disaster. If you're not actively throwing, get out of the lane.
• Never hand an axe to another player. That kind of hand-off can lead to mishaps and slip-ups. Instead, just use the handy dandy magnets in each lane to hang your axes!
• Please, no free-styling. We show you two ways to throw two different axes. For the safety of all of our guests, staff, and property, please stick to those methods.
• Remove axes from the wooden targets by rocking the blade straight up, and then straight down. Pulling on the axe, trying to force it free can lead to punching yourself in the face when your hand slips. No, I'm NOT speaking from experience, why would you ask that?
• Inebriated or otherwise unruly guests will be asked to leave. Axe throwing requires focus, concentration, and all of your faculties.
Following these simple guidelines will ensure the fun and safety of axe throwing for your group!
Rules for a Reason
Sometimes it can seem like there are a ton of restrictions and procedures for what is often regarded as a casual and chill activity, but here at Lumber Jack's, we want you to know the reasoning behind these rules. Especially the Minimum Age Policy. We want everyone to be able to safely and confidently throw axes without stress or anxiety.
Thank you for taking the time to read up on our age restrictions. For any kiddos looking to throw axes with us: we can't wait to celebrate your 16th birthday here at Lumber Jack's Axe Throwing! (We'll even bring the cake!)